2018 Seymour Golf & Country Club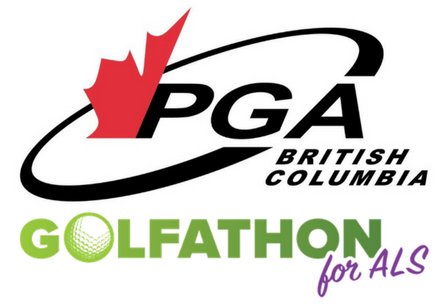 FOR IMMEDIATE RELEASE:                   
During the month of June, PGA of BC golf professionals located at courses throughout BC will golf from sunrise to sunset to support those living with Amyotrophic Lateral Sclerosis (ALS).
On June 26th, 2018; Dale Schienbein golfed in support of those living with ALS.  He began golfing at 4:35AM and finished at 9:40PM! Assistant Professional, Colin Lavers joined him for the first three rounds that day. He later played his fourth round with three Members from the Club – Abby Cromar, Marg Durst, and Kim Cross.
He golfed 95 holes, 5 rounds plus five extra holes and had 1 Eagle and 10 birdies. He had the following scores:
79-76-76-77-76 (and 1 under for his last five holes of round #6).
"It is very rewarding to see the support of our Membership both financially and through the many personal encounters I have had Members who have had family and friends touched by this disease.  I am honored to have shared lighter moments as well as the darker times and certainly tears with many Members who have shared with me their encounters with ALS.
I am very amazed at the level of support that the ALS Society provides not just to the patients but also the family Members  of patients.  From the near instant provision of necessary equipment to counselling and summer camp opportunities to children whose parents/relatives have contracted this disease this Society really cares and makes a positive difference in the lives of ALS patients." – Dale Schienbein, PGA of Canada Head Professional
ALS, also referred to as Lou Gehrig's Disease, is a fatal neurodegenerative disorder that affects the person's motor neurons that carry messages to the muscles resulting in weakness and wasting in arms, legs, mouth, throat and elsewhere; typically, the person is immobilized within two to five years of the initial diagnosis. There is no known cause or cure yet, but there is hope through the ALS Society of BC.
Proceeds from the Golfathon for ALS provide crucial support services to ALS patients and their families, friends, and caregivers.
Help support your local golf professionals to raise awareness and funds for the ALS Society of BC. Please Donate.  www.golfathonforals.com
CONTACT
Wendy Toyer
Executive Director, ALS Society of BC
[email protected]
1.800.708.3228 (ext. 222) CELL 778-999-6257
Donald Miyazaki
Executive Director, PGA of BC
[email protected]
1.800.667.4653