2019 Bear Mountain Resort Community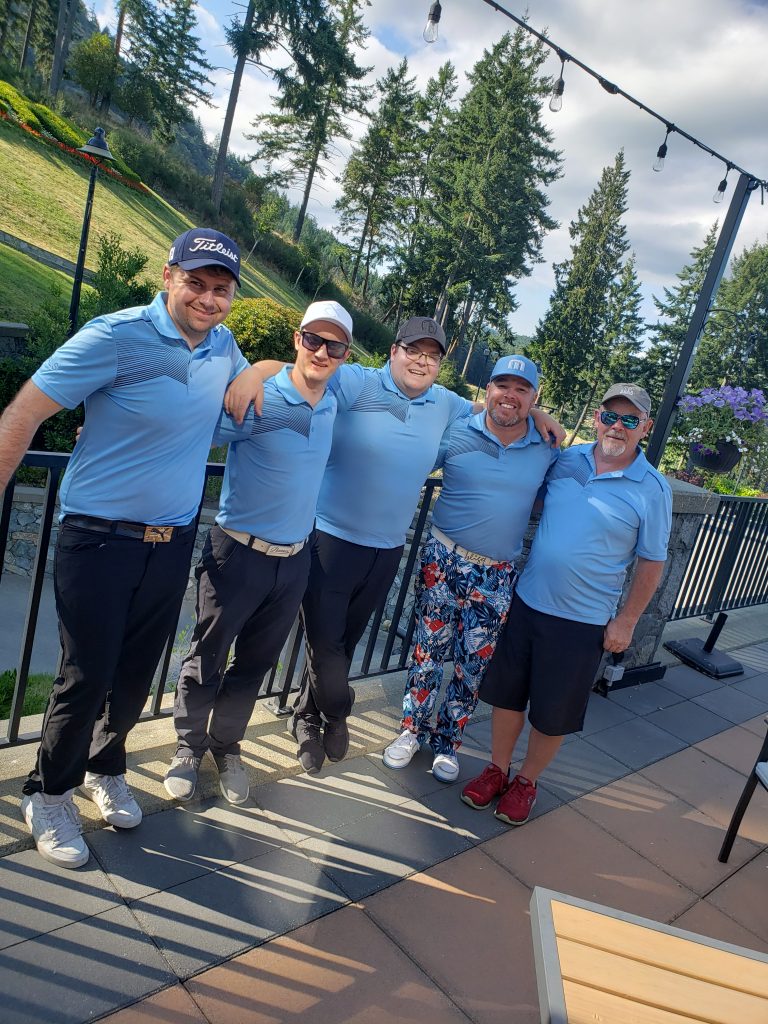 FOR IMMEDIATE RELEASE     
During the month of June, golf professionals will golf from sunrise to sunset to support those living with ALS. To raise awareness and funds for the ALS Society of BC, they will golf as many holes as possible.
Bear Mountain Resort Community
On July 8th, Chris Currie, Jeremy Estey, Cailean Hourigan, Isaac Morris, and Bill Stafford hosted their Golfathon from 5:10AM to 4:30PM. During their Golfathon members supported the squad as they golfed. Members who lived close by would yell out from their patios to pledge donation amounts, and others gave them homemade cupcakes. By the end of their Golfathon they golfed 500 holes in total, which included one eagle and 47 birdies.
"We picked July 8th for this year's Golfathon for Bear Mountain, as this would have been my dad's 79th birthday, who lost his battle with ALS just over five years ago," said Chris Currie, Sales Manager at Bear Mountain Resort Community.
"The day was quite special with perfect weather, the golf courses in amazing condition, and the overwhelming support and donations from our Members, Associates, and the public.
"Donations are still rolling in and we are on target to meet our fundraising goal which is very exciting. A special shout out again to our Bear Mountain ownership who continues to generously support our cause, to our Member Bill Stafford who not only joined me as a non-professional to play all day… but also raised over $6K for the cause. I would also like to mention another member Keith Walsh who donated $2,000 before his round that day, and then proceeded to shoot a hole-in-one during his round… unbelievable.
"Finally a thank you to our media spokesperson Jay Janower for spreading the word, as well as Brady Stoddard with Platform Sales for generously providing Cutter & Buck uniforms for all of us," he said.
"I've said this before but we hope that we can choose another cause to play 100 holes for down the road when a cure for this disease is found… but until then the Bear Mountain Team looks forward to another PGA of BC Golfathon for ALS in 2020."
Amyotrophic Lateral Sclerosis (ALS), also referred to as Lou Gehrig's Disease, is a fatal neurodegenerative disorder that affects the person's motor neurons that carry messages to the muscles resulting in weakness and wasting in arms, legs, mouth, throat and elsewhere; typically the person is immobilized within two to five years of the initial diagnosis. There is no known cause or cure yet, but there is hope through the ALS Society of BC.
Proceeds from the Golfathon for ALS provide crucial support services to ALS patients and their families, friends, and caregivers.
Help support your local golf professionals to raise awareness and funds for the ALS Society of BC.
Please Donate.  www.golfathonforals.com
CONTACT           
Wendy Toyer
Executive Director, ALS Society of BC
[email protected]
1.800.708.3228 (ext. 222) CELL 778-999-6257
Donald Miyazaki
Executive Director, PGA of BC
[email protected]
1.800.667.4653